Kidney Damage From Invokana?
Join our class action suit to hold Janssen accountable.
If you used Invokana to treat Type 2 diabetes only to fall prey to serious kidney damage, then you are not alone.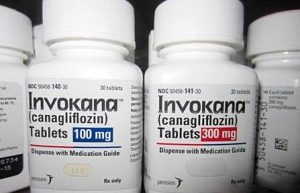 Merchant Law Group, LLP has launched a Canada-wide class action lawsuit against the drug manufacturer Janssen Pharmaceuticals Inc. (a division of Johnson and Johnson) on behalf of Canadians who used Invokana.
Invokana is a prescription drug in the gliflozin classification used to treat Type 2 diabetes. The generic version is known as Canagliflozin. It is designed to improve glycemic control.
It is alleged that Invokana may cause kidney damage or failure. This drug is unreasonably dangerous and unfit, and yet it continues to circulate around the markets.
Damage to the kidneys can be permanent. You may require kidney dialysis, or a transplant. If this condition is not treated fast enough, it can be deadly. It may even require amputations, or send the body into fatal ketoacidosis.
Janssen failed to warn consumers of the dangers.
This reckless corporation downplayed the severity of the side effects. It knew, or ought to have known, the dangers. Despite numerous studies by reputable medical journals which have demonstrated the link between Invokana and kidney disease, Janssen has continued to market and sell this dangerous drug in Canada.
Janssen never took the proper steps to test its drug. It did not conduct a single prospective or retrospective population study, animal study, or trial study. They did not hire a single outside epidemiologist, endocrinologist, hematologist, or nephrologist to study their drug.
The product is unreasonably defective and dangerous. Janssen knew. Yet they didn't care. Five years before regulators started intervening, J&J got numerous alerts as to the dangers of Invokana, but they took no action whatsoever. In the United States, they even got an FDA black box warning for amputation in 2017. This is the agency's strongest warning, meant to inform doctors and patients of serious hazards associated with medications. Still they did nothing.
They just sat back and enjoyed the profits, utterly indifferent to the consequences for the people they were selling their drugs to. In fact, they spent millions of dollars marketing the drug. They still claim the product is safe, even to this day, and continue to refuse to provide a clear, complete, or current warning to medical professionals and consumers.
They lied.
They deliberately withheld information about the risks.
You suffered.
Enough is enough.
We're not just calling for compensation. We're calling for the company to take this dangerous drug off the market before anyone else can get hurt.
They've made over six billion dollars while Canadians have suffered severe losses. Some have even died.
Janssen has placed their profits ahead of the health and safety of Canadian consumers, but you don't have to let them get away with this.
Join this class action today to help hold Janssen accountable. We are pressing for more than $1 billion in damages. When you use a medical product as directed, you should be able to do so without fear that you will lose life, limb, organs, or bodily functions as a result.
Why Merchant Law?
Merchant Law Group, LLP and our representative plaintiffs have been leading the way in Canada in terms of pursuing compensation against Janssen and Johnson & Johnson for reckless, unethical, and dangerous practices that have harmed numerous patients and have irrevocably altered lives.
We have won dozens of high-profile class action cases, and we fight hard to get compensation for all class members who put their trust in us.
Merchant Law Group has offices across Canada from Montreal to Vancouver, and is well-known for pursuing class action lawsuits in Canada including litigation regarding Winners/HomeSense, Cellular Phone Fees, BCE Dividends, GM Gasket Manifolds, Hip Implants, Lead Paint in Toys (and similar consumer products), Maple Leaf, Celebrex/Bextra, Vioxx, Sony, Residential Schools, and various other cases.
Tony Merchant, Q.C. is known to be one of Canada's most active litigators with more than 600 reported cases in Case Law Journals, having argued thousands of cases before the Canadian and American courts, in trial and administrative courts, and the Courts of Appeal of various American and Canadian jurisdictions, the Federal Court of Canada, and the Supreme Court of Canada. Tony Merchant, Q.C., has a long history in pursuing public policy cases and is a former Member of the Legislative Assembly (MLA).
Join Our Class Action Case Today
If you wish to be kept informed as to the status of this case and wish to obtain compensation for the harm that has been done to you, then contact us today.
You may use the following methods:
Fill out our contact form below.
Call us toll-free at 1-888-567-7777.
Or call us by telephone at our law offices near you:
Montreal QC: 514.248.7777
Toronto ON: 416.828.7777
Ottawa ON: 613.563.7777
Winnipeg MB: 204.896.7777
Saskatoon SK: 306.653.7777
Regina SK: 306.359.7777
Edmonton AB: 780.474.7777
Calgary AB: 403.225.7777
Kelowna BC: 250.469.7777
Langley BC: 604.535.7777
Vancouver BC: 604.609.7777
Please provide answers to the following questions.
Did you take Invokana?
How long did you take Invokana?
What was the dosage and frequency of the dosage?
What harms do you know or suspect were caused to you as a result of your having taken the Invokana drug?
---
Version française:
Dommages aux reins causés par Invokana ?
Rejoignez notre recours collectif pour demander des comptes à Janssen.
Si vous avez utilisé Invokana pour traiter le diabète de type 2 uniquement pour devenir la proie de graves lésions rénales, vous n'êtes pas seul.
Merchant Law Group, LLP a lancé un recours collectif pancanadien contre le fabricant de médicaments Janssen Pharmaceuticals Inc. (une division de Johnson and Johnson) au nom des Canadiens qui ont utilisé Invokana.
Invokana est un médicament d'ordonnance de la classification de la gliflozine utilisé pour traiter le diabète de type 2. La version générique est connue sous le nom de Canagliflozine. Il est conçu pour améliorer le contrôle glycémique.
Il est allégué qu'Invokana peut causer des dommages ou une insuffisance rénale. Ce médicament est déraisonnablement dangereux et inadapté, et pourtant il continue de circuler sur les marchés.
Les dommages aux reins peuvent être permanents. Vous pourriez avoir besoin d'une dialyse rénale ou d'une greffe. Si cette condition n'est pas traitée assez rapidement, elle peut être mortelle. Cela peut même nécessiter des amputations ou envoyer le corps dans une acidocétose mortelle.
Janssen n'a pas averti les consommateurs des dangers.
Cette société téméraire a minimisé la gravité des effets secondaires. Elle connaissait ou aurait dû connaître les dangers. Malgré de nombreuses études par des revues médicales réputées qui ont démontré le lien entre Invokana et les maladies rénales, Janssen a continué de commercialiser et de vendre ce médicament dangereux au Canada.
Janssen n'a jamais pris les mesures appropriées pour tester son médicament. Il n'a pas mené une seule étude de population prospective ou rétrospective, une étude animale ou une étude d'essai. Ils n'ont engagé aucun épidémiologiste, endocrinologue, hématologue ou néphrologue extérieur pour étudier leur médicament.
Le produit est déraisonnablement défectueux et dangereux. Janssen le savait. Pourtant, ils s'en fichaient. Cinq ans avant que les régulateurs ne commencent à intervenir, J&J a reçu de nombreuses alertes sur les dangers d'Invokana, mais ils n'ont pris aucune mesure. Aux États-Unis, ils ont même reçu un avertissement de boîte noire de la FDA pour amputation en 2017. Il s'agit de l'avertissement le plus fort de l'agence, destiné à informer les médecins et les patients des risques graves associés aux médicaments. Ils n'ont toujours rien fait.
Ils se sont simplement assis et ont profité des bénéfices, totalement indifférents aux conséquences pour les personnes à qui ils vendaient leurs médicaments. En fait, ils ont dépensé des millions de dollars pour commercialiser le médicament. Ils prétendent toujours que le produit est sûr, même à ce jour, et continuent de refuser de fournir un avertissement clair, complet ou à jour aux professionnels de la santé et aux consommateurs.
Ils ont menti.
Ils ont délibérément caché des informations sur les risques.
Vous avez souffert.
Trop c'est trop.
Nous ne réclamons pas seulement une indemnisation. Nous demandons à l'entreprise de retirer ce médicament dangereux du marché avant que quelqu'un d'autre ne soit blessé.
Ils ont gagné plus de six milliards de dollars alors que les Canadiens ont subi de lourdes pertes. Certains sont même morts.
Janssen a fait passer ses profits avant la santé et la sécurité des consommateurs canadiens, mais vous n'avez pas à les laisser s'en tirer comme ça.
Rejoignez ce recours collectif aujourd'hui pour aider Janssen à rendre des comptes. Nous réclamons plus d'un milliard de dollars de dommages et intérêts. Lorsque vous utilisez un produit médical conformément aux instructions, vous devez pouvoir le faire sans craindre de perdre la vie, un membre, des organes ou des fonctions corporelles.
Pourquoi le cabinet d'avocats Merchant Law ?
Merchant Law Group, LLP et nos représentants des plaignants ont ouvert la voie au Canada en termes de poursuite d'indemnisation contre Janssen et Johnson & Johnson pour des pratiques imprudentes, contraires à l'éthique et dangereuses qui ont nui à de nombreux patients et ont irrévocablement changé des vies.
Nous avons remporté des dizaines de recours collectifs très médiatisés et nous nous battons dur pour obtenir une indemnisation pour tous les membres du groupe qui nous font confiance.
Merchant Law Group a des bureaux partout au Canada, de Montréal à Vancouver, et est bien connu pour ses recours collectifs au Canada, y compris les litiges concernant Winners/HomeSense, les frais de téléphone cellulaire, les dividendes de BCE, les collecteurs de joints GM, les implants de hanche, la peinture au plomb dans les jouets ( et produits de consommation similaires), Maple Leaf, Celebrex/Bextra, Vioxx, Sony, Pensionnats et divers autres cas.
Tony Merchant, Q.C., est connu pour être l'un des plaideurs les plus actifs au Canada avec plus de 600 cas signalés dans les revues de jurisprudence, ayant plaidé des milliers de cas devant les tribunaux canadiens et américains, devant les tribunaux de première instance et administratifs et devant les cours d'appel de diverses juridictions américaines et canadiennes , la Cour fédérale du Canada et la Cour suprême du Canada. Tony Merchant, Q.C., a une longue histoire dans la poursuite d'affaires de politique publique et est un ancien député de l'Assemblée législative (MLA).
Joignez-vous à notre recours collectif aujourd'hui
Si vous souhaitez être tenu informé de l'état d'avancement de cette affaire et souhaitez obtenir réparation du préjudice qui vous a été causé, contactez-nous dès aujourd'hui.
Vous pouvez utiliser les méthodes suivantes :
Remplissez notre formulaire de contact ci-dessous.
Appelez-nous par téléphone sans frais au 1-888-567-7777.
Ou appelez-nous par téléphone à nos cabinets d'avocats près de chez vous :
Montréal QC : 514.248.7777
Toronto ON : 416.828.7777
Ottawa ON : 613.563.7777
Winnipeg MB : 204.896.7777
Saskatoon SK : 306.653.7777
Régina SK : 306.359.7777
Edmonton AB : 780.474.7777
Calgary AB : 403.225.7777
Kelowna C-B : 250.469.7777
Langley C-B : 604.535.7777
Vancouver C-B : 604.609.7777
Veuillez répondre aux questions suivantes.
Avez-vous pris Invokana ?
Combien de temps avez-vous pris Invokana ?
Quelle était la posologie et la fréquence d'administration ?
Quels dommages savez-vous ou suspectez-vous avoir été causés à la suite de la prise du médicament Invokana ?