Xarelto Class Action / Recours Collectif Xarelto (Bayer)
Did Xarelto Make You Sicker Than Ever?
Gastrointestinal bleeding, brain hemorrhaging? Join the class action suit that will hold Bayer accountable on behalf of Canadian patients.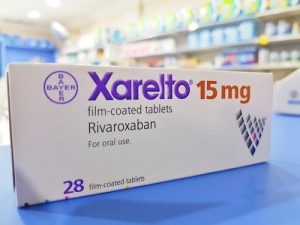 If you took Xarelto to manage blood clots, atrial fibrillation, or other conditions, you put your trust in Bayer AG and Johnson & Johnson.
You didn't know what they already knew: that the drug was dangerous.
They chose to market it and sell it, even knowing it could cause gastrointestinal bleeding, brain hemorrhaging, surgical wound leaks, uncontrolled bleeding, infections, and other serious, sometimes even deadly, complications.
They were negligent. They failed to adequately research the drug. They did not conduct a single population study, animal study, or trial study on Xarelto's long-term effects. They did not hire a single outside epidemiologist, endocrinologist, hematologist, or nephrologist. They failed to heed medical literature, journals, and trials regarding the effects of this drug.
They also failed to inform the public that there was no antidote for the uncontrolled bleeding that Xarelto could cause. They failed to provide adequate safety warnings.
They raked in the profits instead. They poured millions of dollars into advertising instead. They did so knowing there were safer alternatives for similar medical issues available on the market.
They failed in their duty of care to the Canadian public.
Now it's time for Canadians to get justice. If you are one of the thousands of Canadians who has amassed medical bills due to having to correct Xarelto side effects, it's time to get compensation for your pain and suffering. Join the Canadian class action suit against Bayer, and hold them accountable for their callous, cavalier, negligent pursuit of profits over people.
A Lawsuit We Can Win
There have been over 25,000 successful American Xarelto lawsuits since the problems first became evidence in 2011. Bayer and Johnson and Johnson have also paid out a $775 million class action suit, but neither company has offered any sort of compensation to Canadian victims. The link between Xarelto and uncontrolled bleeding has been made abundantly clear and is barely under dispute any longer.
The number of personal injury settlements has reached critical mass. It has now become necessary to group plaintiffs together into a single class so all their claims may be addressed at once.
Together, we will send a powerful message to major corporations like Bayer and Johnson & Johnson, entities who don't listen to anything other than money. We'll send a message to Bayer itself.
Being required to pay millions of dollars for their actions often serves as a deterrent to repeat performances. In addition, judges may order reparative action, such as making demands that the harmful drug be pulled off the shelf.
Signs Xarelto Could be Harming You
You may be suffering from Xarelto side effects if you experience any of the following:
Severe or uncontrollable bleeding
Pink or brown urine
Tar-like, bloody, or black stools
Bleeding gums
Nosebleeds
Arm or leg pain
Coughing blood
Vomiting blood, or vomiting a substance that looks like coffee grounds
Dizziness
Weakness
Headaches
If you are a Xarelto user who has suffered from these symptoms don't do guesswork. See a doctor right away. You may need emergency help. You will also need an official diagnosis in order to join this class action suit.
Note that this is not meant to be taken as medical advice. If you have any reason to suspect that you are suffering from dangerous Xarelto side effects, seek medical attention.
Why Merchant Law?
Merchant Law Group, LLP and our representative plaintiffs have been leading the way in Canada in terms of pursuing justice. Johnson & Johnson and Bayer have harmed consumers before, and we've been on the forefront of attempts to make them compensate their victims.
We have won dozens of high-profile class action cases, and we fight hard to get compensation for all class members who put their trust in us.
Merchant Law Group has 10 offices across Canada, and is well-known for pursuing class action lawsuits in Canada including litigation regarding Winners/HomeSense, Cellular Phone Fees, BCE Dividends, GM Gasket Manifolds, Hip Implants, Lead Paint in Toys (and similar consumer products), Maple Leaf, Celebrex/Bextra, Vioxx, Sony, Residential Schools, and various other cases.
Tony Merchant, Q.C. is known to be one of Canada's most active litigators with more than 600 reported cases in Case Law Journals, having argued thousands of cases before the Canadian and American courts, in trial and administrative courts, and the Courts of Appeal of various American and Canadian jurisdictions, the Federal Court of Canada, and the Supreme Court of Canada. Tony Merchant, Q.C., has a long history in pursuing public policy cases and is a former Member of the Legislative Assembly (MLA).
Join Our Class Action Case Today
If you wish to be kept informed as to the status of this case and wish to obtain compensation for the harm that has been done to you, then contact us today.
You may use the following methods:
Fill out our contact form below.
Call us toll-free at 1-888-567-7777.
Or call us by telephone at our law offices near you:
Montreal QC: 514.248.7777
Toronto ON: 416.828.7777
Ottawa ON: 613.563.7777
Winnipeg MB: 204.896.7777
Saskatoon SK: 306.653.7777
Regina SK: 306.359.7777
Edmonton AB: 780.474.7777
Calgary AB: 403.225.7777
Kelowna BC: 250.469.7777
Langley BC: 604.535.7777
Vancouver BC: 604.609.7777
Please answer the following questions:
Did you take Xarelto?
How long did you take it? What was the dosage and frequency?
Have you experienced gastrointestinal bleeding, brain hemorrhaging, or other severe bleeding events?
How has this impacted you? Have you lost income? Suffered from financial hardships? Has there been an impact on your life and happiness?
Did you suffer from bleeding-related injuries like strokes, pulmonary embolisms, deep vein thrombosis, or heart attacks caused by Xarelto side effects?
The harms that Bayer and Johnson & Johnson have caused by continuing to market and sell this drug are significant. The team at Merchant Law regrets that so many Canadian citizens have been put through so much pain and suffering. We will do everything in our power to help you obtain justice.
---
Version française:
Xarelto vous a-t-il rendu plus malade que jamais?
Saignement gastro-intestinal, hémorragie cérébrale ? Joignez-vous au recours collectif qui tiendra Bayer responsable au nom des patients canadiens
Si vous avez pris Xarelto pour gérer les caillots sanguins, la fibrillation auriculaire ou d'autres conditions, vous faites confiance à Bayer AG et Johnson & Johnson.
Vous ne saviez pas ce qu'ils savaient déjà : que la drogue était dangereuse.
Ils ont choisi de le commercialiser et de le vendre, même en sachant qu'il pourrait provoquer des saignements gastro-intestinaux, des hémorragies cérébrales, des fuites de plaies chirurgicales, des saignements incontrôlés, des infections et d'autres complications graves, parfois même mortelles.
Ils ont été négligents. Ils n'ont pas fait de recherches adéquates sur le médicament. Ils n'ont pas mené une seule étude de population, étude animale ou étude d'essai sur les effets à long terme de Xarelto. Ils n'ont pas embauché un seul épidémiologiste, endocrinologue, hématologue ou néphrologue extérieur. Ils n'ont pas tenu compte de la littérature médicale, des revues et des essais concernant les effets de ce médicament.
Ils ont également omis d'informer le public qu'il n'y avait pas d'antidote pour le saignement incontrôlé que Xarelto pourrait provoquer. Ils n'ont pas fourni d'avertissements de sécurité adéquats.
Ils ont engrangé les bénéfices à la place. Ils ont versé des millions de dollars dans la publicité à la place. Ils l'ont fait en sachant qu'il existait sur le marché des alternatives plus sûres pour des problèmes médicaux similaires.
Ils ont manqué à leur devoir de diligence envers le public canadien.
Il est maintenant temps pour les Canadiens d'obtenir justice. Si vous faites partie des milliers de Canadiens qui ont accumulé des factures médicales en raison de la nécessité de corriger les effets secondaires de Xarelto, il est temps d'obtenir une indemnisation pour votre douleur et votre souffrance. Joignez-vous au recours collectif canadien contre Bayer et tenez-les responsables de leur poursuite impitoyable, cavalière et négligente des profits sur les gens.
Un procès que nous pouvons gagner
Il y a eu plus de 25 000 procès américains Xarelto réussis depuis que les problèmes sont devenus des preuves en 2011. Bayer et Johnson and Johnson ont également versé un recours collectif de 775 millions de dollars, mais aucune des deux sociétés n'a offert une quelconque indemnisation aux victimes canadiennes. Le lien entre Xarelto et les saignements incontrôlés a été clairement établi et n'est plus guère contesté.
Le nombre de règlements de dommages corporels a atteint une masse critique. Il est maintenant devenu nécessaire de regrouper les demandeurs en une seule classe afin que toutes leurs réclamations puissent être traitées en même temps.
Ensemble, nous enverrons un message fort aux grandes entreprises comme Bayer et Johnson & Johnson, des entités qui n'écoutent rien d'autre que l'argent. Nous enverrons un message à Bayer lui-même.
Le fait d'être tenu de payer des millions de dollars pour leurs actions a souvent un effet dissuasif sur la répétition des performances. En outre, les juges peuvent ordonner des mesures réparatrices, telles que demander que la drogue nocive soit retirée de l'étagère.
Signes que Xarelto pourrait vous nuire
Vous pouvez souffrir d'effets secondaires de Xarelto si vous ressentez l'un des effets suivants :
Saignement sévère ou incontrôlable
Urine rose ou brune
Selles ressemblant à du goudron, sanglantes ou noires
Saignement des gencives
Saignements de nez
Douleur au bras ou à la jambe
Tousser du sang
Vomir du sang ou vomir une substance qui ressemble à du marc de café
Vertiges
La faiblesse
Maux de tête
Si vous êtes un utilisateur de Xarelto qui a souffert de ces symptômes, ne faites pas de suppositions. Consultez immédiatement un médecin. Vous pourriez avoir besoin d'une aide d'urgence. Vous aurez également besoin d'un diagnostic officiel pour vous joindre à ce recours collectif.
Notez que cela ne doit pas être considéré comme un avis médical. Si vous avez des raisons de soupçonner que vous souffrez d'effets secondaires dangereux de Xarelto, consultez un médecin.
Pourquoi Merchant Law ?
Merchant Law Group, LLP et nos représentants des plaignants ont ouvert la voie au Canada en matière de poursuites judiciaires. Johnson & Johnson et Bayer ont déjà nui aux consommateurs, et nous avons été à l'avant-garde des tentatives pour les faire indemniser leurs victimes.
Nous avons remporté des dizaines de recours collectifs très médiatisés et nous nous battons dur pour obtenir une indemnisation pour tous les membres du groupe qui nous font confiance.
Merchant Law Group compte 10 bureaux à travers le Canada et est bien connu pour ses recours collectifs au Canada, y compris les litiges concernant Winners / HomeSense, les frais de téléphone cellulaire, les dividendes BCE, les collecteurs de joints GM, les implants de hanche, la peinture au plomb dans les jouets (et autres produits de consommation similaires). produits), Maple Leaf, Celebrex/Bextra, Vioxx, Sony, pensionnats et divers autres cas.
Tony Merchant, Q.C., est connu pour être l'un des plaideurs les plus actifs au Canada avec plus de 600 cas rapportés dans les revues de jurisprudence, ayant plaidé des milliers de cas devant les tribunaux canadiens et américains, devant les tribunaux de première instance et administratifs, et les cours d'appel de diverses juridictions américaines et canadiennes, la Cour fédérale du Canada et la Cour suprême du Canada. Tony Merchant, Q.C., a une longue histoire dans la poursuite d'affaires de politique publique et est un ancien député de l'Assemblée législative (MLA).
Joignez-vous à notre recours collectif aujourd'hui
Si vous souhaitez être tenu informé de l'état d'avancement de cette affaire et souhaitez obtenir réparation du préjudice qui vous a été causé, contactez-nous dès aujourd'hui.
Vous pouvez utiliser les méthodes suivantes :
Remplissez notre formulaire de contact ci-dessous.
Appelez-nous par téléphone sans frais au 1-888-567-7777.
Ou appelez-nous par téléphone à nos cabinets d'avocats près de chez vous :
Montréal QC : 514.248.7777
Toronto ON : 416.828.7777
Ottawa ON : 613.563.7777
Winnipeg MB : 204.896.7777
Saskatoon SK : 306.653.7777
Régina SK : 306.359.7777
Edmonton AB : 780.474.7777
Calgary AB : 403.225.7777
Kelowna C-B : 250.469.7777
Langley C-B : 604.535.7777
Vancouver C-B : 604.609.7777
Merci de répondre aux questions suivantes:
Avez-vous pris Xarelto?
Tu l'as pris combien de temps ? Quelle était la posologie et la fréquence ?
Avez-vous eu des saignements gastro-intestinaux, des hémorragies cérébrales ou d'autres événements hémorragiques graves ?
Comment cela vous a-t-il affecté ? Avez-vous perdu des revenus ? Vous avez souffert de difficultés financières ? Y a-t-il eu un impact sur votre vie et votre bonheur ?
Avez-vous souffert de blessures liées à des saignements comme des accidents vasculaires cérébraux, des embolies pulmonaires, une thrombose veineuse profonde ou des crises cardiaques causées par les effets secondaires de Xarelto ?
Les dommages que Bayer et Johnson & Johnson ont causés en continuant à commercialiser et à vendre ce médicament sont importants. L'équipe de Merchant Law regrette que tant de citoyens canadiens aient enduré tant de douleur et de souffrance. Nous ferons tout ce qui est en notre pouvoir pour vous aider à obtenir justice.
Remplir le formulaire ci-dessous n'impose aucune obligation financière de votre part. Vous recevrez des mises à jour sur le recours collectif et serez ajouté au recours collectif pour recevoir une compensation si vous êtes admissible.
Filling out the form below does not impose any financial obligation on your part. You will be given updates on the class action and will be added to the class action to receive compensation if you qualify.